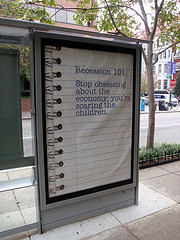 Over the last few years, the market and the economy have been tough.  In the residential space, the main buying triggers for design services – building new homes and the sale of existing homes – have plummeted.  In the commercial space, companies' tightening their belts has led to decreased opportunities there.  Given that situation, how can you increase your business – and, more importantly, your profits?
(The examples used relate to interior designers because this article was written for their trade magazine, but the concepts apply to everyone.)
In my work with clients in the industry, we've found several effective ways to create opportunities in your business that will keep you afloat and even growing, while your competitors flounder.
1. Update your sales process and conversations
2. Define your niche
3. Market – more and differently
Let's discuss these three specific and actionable ideas so you can move the needle in your business.
Update Your Sales Process and Conversations
Even though research shows that, unlike past recessions and the Great Depression, the wealthy have managed to actually increase their share of wealth during this downturn, the idea of luxury and conspicuous consumption are not what they were.  With the political and market uncertainty that still abounds, very few are feeling in a decadent mood.  Therefore, if you were selling on luxury and ultra high end before, it might be time to reposition your brand and recraft your sales message.
One of my clients who was known as the ultra high end luxury designer in their city found that even those prospects with the means didn't want to appear insensitive given the economic climate. And some individuals, who were sold on the company, put the brakes on right before launching the project – out of fear.
We shifted the focus from luxury to value.  Instead of emotionally selling image and vice, we emphasized quality and durability.
Remember, selling is 90% emotional.  Know what you're selling from an emotional perspective – and know that, during different economic times, your customers are going to want to buy different feelings.  As a consumer of design servicers, the way I want to feel from buying your services was different in 2006 than it is today.  You must adjust accordingly.
Define Your Niche
It never ceases to amaze me how many designers I meet who don't know who they serve.  If your answer to the question, "who is your ideal client?" is "anyone with money," I would bet you're struggling.
We live in a hyper-specialized world.  Those who try to be everything to everyone end up serving no one.  If you want to be successful in today's competitive environment, you need to define your niche.  You need to know who your perfect client is – in great detail.  The more clearly you can describe your target, the more powerful and connected your communication to them will be and the easier time you'll have finding them (and the more easily they'll be attracted to you!).
To be successful in business, your company needs effective marketing – which is the communication about your business to your market.  To be an effective communicator, you must be able to get inside the head of the person to whom you are speaking or writing. Imagine yourself as a prospect for your business.  Do you want someone who seems all over the place and does whatever project comes along?  Or someone who specializes in working with people just like you?
Don't fear – you can still accept any client that you choose.  But the more targeted you are in defining your niche, the easier it will be to build your business, and then spawn referrals from there!
Market – More and Differently
So now that you know who your target customer is, you must reach out to them.  So many designers think that good work should be enough to create a successful business.  Guess what: being a good designer is just table stakes.  To be successful in your business, you need to be good at marketing and sales as well – or hire or partner with someone who is.
How many different marketing strategies do you use in your business?  How much time do you spend on marketing each day?  What are your returns per strategy? If you want your business to grow and your only marketing is attending one networking event per week, that isn't going to cut it.  You need to increase your time and resources invested in your marketing, and increase the quality of your marketing activities.
Look to see what your competitors are doing and copy what works.  Research how other companies in different industries, who target the same group of prospects as you, are successful and steal their methods.  And try something no one else is doing in your field.  I had a client who was networking, getting referrals, and doing some online marketing – but wasn't generating the growth in her business that she wanted.  So we developed a simple and very cost effective direct mail campaign.  Her interior design mentor said not to bother, that it was a waste of money.  In the first mailing, she got a new client that will pay for the entire year's campaign!
Finally, after you've developed your marketing plan and strategies, and systematized them to insure you are marketing with consistency, make sure you track your results.  In the past, I have fallen into this trap myself.  I spent an entire year investing between 5 – 10 hours per week on a marketing strategy.  At the end of the year, I was working with one of my coaches to see which strategies were working and which weren't.  This strategy that I had spent so much time on over the previous year had yielded zero results.  Track your prospects per marketing activity so you know where to put more time and money and where to cut your losses.
For those who've survived the crunch of the last few years, there is great opportunity on the horizon.  Many great businesses were born before and even during the Great Depression.  And the ones who survived were stronger for it.  However, they survived by mastering the business side of their business and keeping their eye on running profitably.  Don't put all your creativity and energy into your projects, save some for your marketing and your business.  With some energy, creativity, and support, you can create a profitable, growing business and position yourself as a major force in the post recession market.