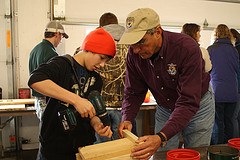 One of my favorite business quotes is:
The problem with most failing businesses is not that their owners don't know enough about finance, marketing, management, and operations—they don't, but those things are easy enough to learn—but that they spend their time and energy defending what they think they know.

My experience has shown me that the people who are exceptionally good in business aren't so because of what they know, but because of their insatiable need to know more.

— Michael Gerber
Learning Goals
What learning goals have you outlined for yourself this year and this quarter?  What programs, workshops, books, blogs, magazines, expert advice are you consuming?  What regular habits of learning have you developed to continue to push you forward.
"We can't solve problems by using the same kind of thinking we used when we created them."

— Albert Einstein
To get to a new place in your business, you need some combination of:
- New actions
- New relationships/people (internal and/or external)
The new actions and connections will come from new ideas.  The new ideas might come to you spontaneously, but, more likely, they will sprout from some outside source – an observation, a conversation, a challenge.
I am always looking for ways to improve myself and my business.  I am taking a yearlong training program with executive coach Bryan Franklin this year.  I am almost always reading a business book (I am about to start Derek Sivers's new book Anything You Want).  I brainstorm new business ideas daily with my accountability buddy.  Next week I'm going to Fabienne Fredrickson's New York workshop.
So what about you?