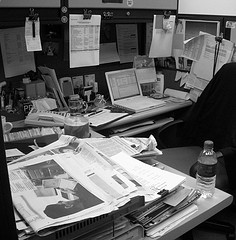 If you have team members who don't have great organizational skills, they're going to need your coaching to guide them in how to be more effective with their projects and tasks.
There are two key elements to help you be a successful coach here.
First, look at how they are currently working.  What are they currently doing effectively?  And how do they like to work?  That might be leaning on technology – or that might be working with a paper based system.  Try to find their strengths and leverage them as much as possible.
If you have a smaller organization, you probably have more leeway to  accommodate different organizational styles.  If you are running a team of sales people, where you have 5 or more individuals on the team, you're going to have to start standardizing the reporting, data entry, task management, and prioritization systems so that you can guide your team effectively and efficiently.
The second element is the accountability and follow-up.  No matter how complicated or simple a system is for managing your tasks and priorities, it's easy to drop the system and fall out of integrity with it.  For your team to follow an organized productivity system (especially a team member who is naturally disorganized), they're going to need to form new habits – which takes practice and reinforcement.  You can support them by providing check-ins to make sure your team members are using the new systems that you helped them build.
One of my favorite books on organization is David Allen's Getting Things Done.  While your team might not be able to implement the entire system (it's a bit unwieldy), just taking one or two points or ideas and putting them into practice will help.