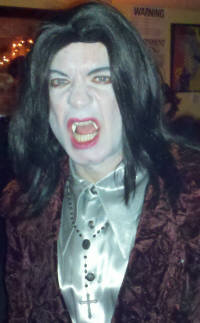 I'm a bit of a vampire junkie.  Last year for Halloween, I went as the Vampire Armand from the Anne Rice series (that's me in the picture).  I showed the picture to my business mastermind group, and the conversation quickly shifted to energy vampires in our businesses.
Do you have someone associated with your company who takes more energy than they give?  One of my board members mentioned a client who fights her guidance every step of the process.  In my business, I had a professional advisor I used to work with who always seemed to deflect any issues I raised with our lack of results by shifting blame.
Whether it's an employee, a client, a freelancer, a business partner, or a vendor, you can't accomplish the big goals you have for yourself and your business with this dead weight.
In a post earlier this year, I discussed 6 key words to use to help you evaluate if you're engaging with A players.  The sixth word is energy.  When you're with people with the right energy for you, your business, and their position, you'll leave the interaction feeling at least some of the following:
- Enlightened
- Encouraged
- Supported
- Confident
- Filled with creativity
- Happy
- Excited
How often do you feel that way in your business relationships?
Where you're not feeling that way, it's a clue a change is needed.