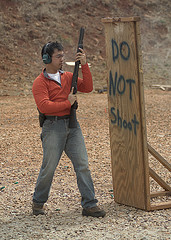 I had a client once, let's call her Sarah, who loved her business (except when her clients drove her crazy – but that's a different post).  She had worked for others as a technician and decided she could be a better boss than her boss – a class E Myth story.  Sarah was proud of her work, and grew her business through referrals.  But she wanted to take her company to the next level.
In working with her, I noticed that her competitors had done some great online marketing, positioning and storytelling.  I sent her some examples of companies that were successfully generating business leads online – when she was not getting any online business leads.  She examined these other companies and then passionately explained to me why she was better.  She had completely MISSED THE POINT.
The point is to learn from and steal ideas from anywhere you see something working!  When I told her that, the thought hadn't even occurred to her.  She was comparing the technical work of what she did and didn't do relative to what they said they did and didn't do, instead of studying their successes and learning from them.  She was in a completely defensive mode – without even realizing it!
You are going to move forward a lot faster and get a lot better results in your business (and your personal life also) if your radar is set to learn from anything you see or hear that's successful and effecitve.  Look at how you can apply it to your business instead of either defending how you currently do things or how it won't apply to you.