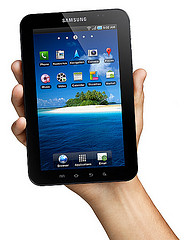 Last month, I bought a Samsung Galaxy Tab as a birthday/Christmas present for myself.  (It's a great device.  I mainly use it for reading books and e-mails, and I really enjoy the user experience.)  This device is sold by Verizon, T-Mobile, AT&T, and Sprint.  I thought the most advanced Android-based tablet computer would be easy to find and buy.  It wasn't.  Best Buy sold the device, but you had to get a contract with Verizon or Sprint.  There was no discount for long-term contracts.  If you got a month-to-month contract, the salesperson said you could cancel it when you walked out the door, but I couldn't get confirmation of that from Verizon.  I decided to purchase it directly from Verizon, since I already have cell phone service with them.  But I couldn't get a straight answer on the contract terms, and I found that they had disabled some of the features of the device.  I finally bought the device from T-Mobile, where it took an extra 20 minutes to figure out how to sell me the device at full price without a contract.
Why were these companies making it so hard to purchase this item, especially considering the competition from the iPad, which you can walk into a store and purchase in five minutes?
How about you and your company?
Do you have any barriers or obstacles to someone purchasing from you?  Look at your sales process.  Is there anything you could do to make it even simpler for people for companies to buy from you?
Here are some ideas for you:
- Accept credit cards
- Offer financing
- Create membership services that automatically charge and renew
- "Instant" check out
- Packaging your most popular products or services for ease of purchase
How about you?  What have you done to make buying from your company easy?