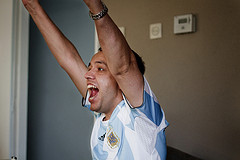 It is the end of the quarter and the end of the year.  Have you completed your assessment for 2010 and laid out your plan for 2011?  I've been spending time the last couple weeks doing that for my own business and helping my clients with their planning.  Here are the steps to follow to create your foolproof plan.
1.  Assess
Before you can decide where you want to go, you must have a clear picture of where you are currently.  The first step in any planning process is to take stock of where you are.  Look over the past year to where you've been and where you are currently.  What major victories and accomplishments have you achieved?  What mistakes and challenges arose?  Look across the entire business.  Where do you stand in each of these areas?
- Customers
- Marketing
- Sales
- Operations
- Product development
- Customer service
- Finances
- Systems and processes
- Team
- Personal life
As you review these areas, take note of where you are currently and where you'd like to be one year from now.  The difference is the gap, which were going to bridge with our plan.
2.  Plan
Now you must lay down in writing your goals and plan for the future.  When I work with clients, we start with the long-term objectives and work our way down to the quarter.
- Your long term vision
- An intermediate analysis (3-5 years)
- Your one year objectives
- Your quarterly commitments
A word of warning: please don't skip the long-term work just to jump into the quarterly plan.  Without knowing where you want to end up, it's very hard, if not impossible, to lay out your strategy for the upcoming quarter.  Conversely, to my natural visionaries reading this, don't stay up in the clouds either.  Get a clear picture as to where you're going in the long-term and then drive it down to actions in the short term.
3.  Execute
Your plan should be articulated in a simple form that will be easy to review and follow throughout the upcoming quarter.  I have developed a template where your long, intermediate, and short term items all fit on one piece of paper.  Clear and simple.  For any plan to help you, it must be reviewed and followed.
If your plan does not included already, the first step in executing is to assign responsibility for each of your objectives that you've identified.
4.  Evaluate
As you are executing your plan throughout the upcoming quarter, you must evaluate its effectiveness.  This is a bit of an art and a bit of a skill.  As you executed move forward, you learn more and gain more skill and information as an organization.  You want to make sure you're taking that into account and adjust your plan accordingly.  However, you also want to make sure that you are not being swayed by every circumstance arises.  It is a bit of a balancing act.  If you're practicing this ongoing execution and review pattern throughout the quarter, your next quarterly planning session will be that much easier and more effective.
Please call or email if you have any questions or would like some help in implementing or completing your planning process.  646-862-1710 or ssmith@leadasba.com.
Happy Holidays!