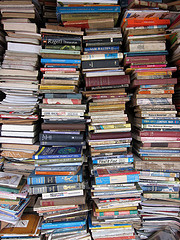 Are you drowning in e-mails, blog posts, magazines, newspapers, books, trade publications, bookmarked websites, and other sources of must read or must view information?  Three years ago, best-selling author of The Four Hour Work Week, Tim Ferris, suggested on his blog and then in his book that we go on a low information diet.  This week, Seth Godin suggested skipping phone, meetings, and e-mail for a day.
Information Without Execution Is Pointless
Information processing creates a trap.  It makes us feel like we're actually doing something.  Most of us spend too much time processing and taking in information and not enough time executing.  The next time you're reading a blog post, or a magazine article, or an e-mail, ask yourself is this just fun or am I considering this work?  If you think you're working, be diligent about asking, "What is my next step from this information?"  If you don't have one, either create one or move on.