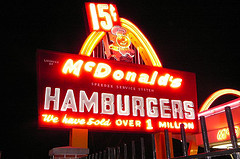 Do you build your own company, or is buying a franchise a short-cut that will lower your risks?
I was speaking with someone today who just recently bought into a franchise structure.  I've worked with a couple franchisees and previously owned a franchise myself.  I learned a lot from my experience and want to share with you the only three reasons that I've found to buy a franchise.  Maybe with traditional franchises (quick service restaurants like McDonalds or Subway), these points might be obvious.  But with the rise of service franchises, the value gets cloudier.  Here's what I see as the value of investing in a franchise.
1. The Brand
If the franchise you are buying has a strong, positive, healthy brand in the market, this can provide a lot of value to you as a franchisee.  A strong brand will save you time and money in marketing, and hopefully generate leads for you to sell your products or services.  Building a brand can be time consuming and expensive – so a franchise can provide a great shortcut here.
The down side is that if the brand is not known or if something negative happens within the franchise system, it usually negatively impacts the entire brand.  A story of rats in a chain restaurant in one location doesn't mean that another location isn't clean, but our association with the brand carries.
The other issue is buying a new franchise that isn't as well known.  While you aren't getting this value at the time of purchase (and hopefully your investment is therefore smaller), there might be an opportunity to ride the growth of the franchise.  I have a friend who bought a number of Sylvan franchises in the mid-1990's and has done very well in his business as the market and that brand grew.
2. The Franchise System (the resources, business model, and intellectual property)
This is the real charm of franchising – or at least the promise.  You don't have to make all the mistakes, because someone else has blazed the trail and developed a proven method.  They've tested what works and what doesn't and systematized the success so you don't have to pay for making every mistake yourself.
This is where you must do your due diligence.  There is usually a trade off with smaller and newer franchises costing less than more established or successful ones – but sometimes the differential isn't enough.  Take the time to look under the cover.  Remember the representatives from the franchise or the franchise brokers are almost exclusively incented to have you invest.  What are the real failure rates? (It is my understanding that franchises can buy back failing operations to improve their numbers on the UFOC.)  How tested is the model that you are purchasing?  What do you get exactly in terms of support and training?
3. The People
Just like an individual business, a great franchise is made of great people and great systems.  We talked about the systems in #2 above.  The people might be of such quality and have such valuable experience that their mentorship might be worth the investment.  This element is especially true in service franchises.
Before making a decision:
-          Talk to dissatisfied franchisees or those who left the system – not just the superstars that the salespeople refer you to.  Learn what differentiates the successes from the failures.  What characteristics are a closer match to yours?
-          Do the cost benefit analysis of doing it on your own versus the investment in the franchise.
-          If possible, spend a few days shadowing an existing franchisee.  Is this what you want your days to look like?
Franchises can be a great tool to get you into business faster and to shortcut the learning curve and the mistakes curve – but that comes at a price.
If possible, become a franchisor instead!
Did I miss anything?  Are there more than the 3 points I mention?