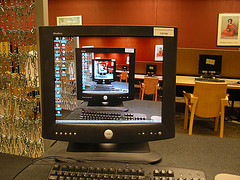 I had dinner the other night with a friend who works at American Express.  She loves American Express, and she's having a great time working there.  One of the things I learned from her that night that surprised me is an initiative that she mentioned to go virtual.  I don't know the scope or the details, but she mentioned this is a project they are working on.  Apparently, the company has run the numbers and discovered the amount of resources wasted by having physical space for all their staff.  While viritual offices have been a tool for small businesses and start-ups to keep expenses low while they bootstrap their growth (as discussed here) or as a corporate philosophy like 37signals' founder Jason Fried talks about here.  However, this was the first I'd hear of a Fortune 500 company investigating this opportunity.
Watch the video of this post here:

The Virtual Office Trend
A couple of years ago, I was talking to someone who works in the media about this trend.  Just think about this from an environmental perspective and from a cost perspective: think of how much space isn't used for large portions of each day.  Homes aren't used during the day while people are in the office working, and offices aren't used for 40+ hours per week while people are at home.
The studies that have been done show that people working from home are more productive and creative in their own environments.  The benefits are discussed in this article from Aon Consulting.  And, in a very interesting self exploration, Inc. discusses their own process of going virtual here.  "We have been told by entrepreneurs, academics, and consultants that getting rid of the office and working remotely can make a company more productive, better for the planet, and cheaper to run."
The Virtual Roadblock
So why aren't we all working virtually?  The downside is the challenge of measuring what's being produced.  The challenge is – for businesses large and small – that most people don't know how to measure output – they only know how to measure input.  Whether you're a business owner or a manager, what do you measure?  What I often see my clients measure is how many hours per day someone's sitting in a seat.  Like my new clients, you probably don't know if 6 of that employee's hours are spent on FaceBook, or texting, or IMing.
The Secret: Measuring Output
You've got to learn how to measure and manage output.  How do you assess, for a specific position or area of responsibility, what the deliverables are?  What do you need to get out of that role?  If you're just looking to have a seat filled – you could do that with a stuffed animal.  That's not creating value for your business or company.
Critical Variables of Output
Some ideas to get you started include (these will vary greatly based on your business and the position):
-          Outgoing calls to clients or prospects
-          Sales numbers
-          Project timelines and milestones
-          Cases completed
-          Client comments
-          Successful client implementations
-          Profit margin per project
-          Customer service issues closed
-          Volume of data entry completed
What matters most to your business should be what's measured, whether you go virtual or not.
What are some of the areas that you measure, and what's preventing your company from going virtual?