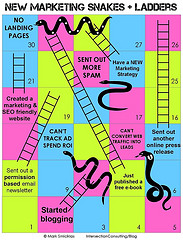 In "I Can't Market — I'm BUSY!", we discussed how, as a small business owner, your number one deterrent to marketing is being busy with customers.  The primary tool to help you there is a marketing calendar.  Let's explore that in more detail today.
How to Get Started
"The secret of getting ahead is getting started."- Mark Twain"
If you're having any kind of success in your business currently, you are already marketing – and are probably doing many things right.  Begin to create your marketing calendar by listing all of the activities that you know you have coming up.  For this process, define marketing activities broadly: anything that brings prospects or returning customers to your door.  That list could include:
-          Product launch
-          Seminars your company is conducting
-          Web initiative
-          Sale or promotion
-          Holiday event
-          Press outreach
-          Media placement
Create one list for those items that are already planned and scheduled.  Create a second list for ideas you and your team have that are not yet on the schedule.
What to Include
Depending on the size of your organization and the resources you have available, this tool might be used just for the big picture or for a very detailed level of activity.  If you have a separate and dedicated sales staff and a marketing team, the company-wide sales and marketing plan will tend to be very high-level — just including major milestones.  If you have a smaller number of people involved in sales and marketing, you can use this tool in a more detailed way.  Make sure to record the action item or result with a date and the individual responsible for each deliverable.
How to Format
There are several tools you can use to develop your marketing plan/calendar.  Depending on your team and the type of planning you are conducting, the following formats are possible options for you:
-          Mind Mapping
-          Calendar
-          Listing
For the brainstorming aspects, and possibly even the project planning piece, mind mapping is a very useful tool.  You can also use a calendar program – either a graphical one for print display or a dynamic and shareable one such as Google or Outlook.  Another alternative is to list out the activities, by date and include who is responsible for the delivery of that item.
What's Your Budget and Return on Investment?
In marketing, you should be looking for ways to decrease your customer acquisition cost and increase the lifetime value of your customers.  To do this, you need tracking systems in place for your source of customers and your profit per customer.  This is a first step in enabling you to calculate return on investment by marketing strategy.  Your return on investment tells you how much you will make per dollar invested in each of your marketing strategies.
You should also create a marketing budget by month that will correlate with your marketing calendar.
Where's the Beef?
Regardless of your company's size and your budget, having a plan for your sales and marketing efforts and tracking your results will insure consistent performance in these areas and enable you to get the best results for your efforts and investment.
Photo by: Intersection Consulting