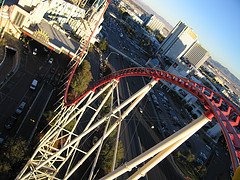 In talking with hundreds of business owners over the years, the number one reason business don't market consistently is because they get busy.  This is especially true for business not yet large enough to have a dedicated marketing or sales staff.  Not marketing and selling leads to major volatility in your revenue – which will usually lead to a cash crunch.
When You Stopped Marketing
Let's see if you recognize the pattern:
You and your team hustle to make connections, present, pitch, network, deliver value and content – whatever your marketing and sales process entails.  And it works!  However long your sales cycle takes (from immediate to years in some businesses), you start getting clients and customers.  And then you have to actually DELIVER.  You have to provide the goods and services you sold.   Clients have issues, questions.  There are bugs in the process.  There are fires to put out.  So what do you cut – sales and marketing time.
The effects are a bit insidious.  You are so busy, you don't realize you've been gradually reducing your outreach efforts.  This is especially common if you're not a big fan of sales and marketing to begin with!  Then it hits you.  Projects start winding down, products are out the door and the customer is happy – and you're less and less busy.  But you can't turn back time and you probably can't do much to shorten your sales cycle.  You get out and start doing the work to bring in the business again – but the pipeline's empty and to reprime the pump takes time.  You end up going from boom months to crickets.
How to Prevent the No Sales Cycle
There are a couple of tools to use to avoid this trap:
1.  A Marketing Calendar
2.  Discipline and Accountability
Develop a Marketing Calendar
When you've got the time, energy, and creative reserves, plan out your marketing items for the next year.  Calendar you initiatives and activities that are going to spread your brand and bring people to your business.  Be flexible enough to change and take advantage of new opportunities that arise – but don't decrease the committed level of activity.
Besides insuring consistent action, planning your marketing will enable you to track what's working and to see if the level and quality of marketing you're doing is sufficient to produce the sales results you want.
Discipline and Accountability
Planning is great.  But without the discipline and accountability to follow the plan, it is useless.  I've worked with many companies that put in the time to plan out their quarter and set goals for the year – and then never look at them again.
Individual levels of discipline vary.  And external circumstances create varying levels of pressure at different times.  The less natural discipline in you and your business, the more systems for accountability and support are needed.  There are always fires to put out, especially as you get busy serving clients.  Putting marketing on the backburner is inevitable.  Build yourself a strong enough accountability system to make sure this critical work is getting done.
You'll be grateful when get off the rollercoaster you've become accustomed to in your business and start producing consistent results.