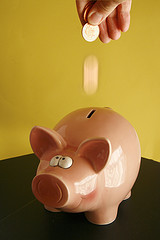 Are you on target to hit your business budget this year?
Do you even have and use a budget in your business?
The business budget is one of the most important planning tools at your disposal as a business owner.  The process of setting a budget takes you through a process that forces you to ask questions about every area of the business – from saving money in the expense area to backing from your revenue projections into your sales and marketing plans.
What is a budget?
A budget is a projection of each line item on your Profit & Loss or Income Statement going forward.  Usually, when I work with clients on their business budgets, we are looking at an annual projection broken into months.  In some businesses, you might need a finer time gradation than months – such as weeks or even days.  But months is the bare minimum.
"How do I know what I'll make?"
The biggest challenge often faced by business owners in the budgeting process is trying to project how much revenue they'll generate.  I often hear:
"How am I suppose to know that?"
"Where do I start?"
"I wish I knew."
If you are tracking your marketing and sales activities in your business, you should develop, with time, expertise in forecasting your revenues.  How much you earn is going to be a function of your marketing and sales activities per product or service offering.  If you are very new in business or in a certain markets or products, your projections will probably be off the mark.  However, with experience and practice and measurement of your business development activities, you will gain a deep understanding of the relationship between marketing and sales and your revenues.  Each marketing activity will have a certain expected return in terms of leads generated (and eventually revenue).  In addition, each sales activity (maybe by salesperson) will have a certain expected conversion rate.  The conversion rate is the percentage of prospects that will convert to buyers.
By planning your marketing and knowing your conversion rates by marketing strategy and prospect type, you can make a very reasonable estimate as to your total projected revenues.
The Thought Process
In your projections, you are aiming for $140,000 for the month of June.  Unless there are significant changes in your business model, product, or market, a good place from which to start creating your budget is your previous year's actual numbers.  The previous year, you did $130,00 for June in total revenue.  You are shooting for a 7.7% increase this year.  You know you have a 3 month sales cycle (from initial prospect contact to contract).  You have two initiatives in place to boost your confidence in this projection: 1. You have a new strategic alliance campaign you are launching in April, and 2. you have a new salesperson on your staff.
How High to Aim
Goals should be a stretch – but reachable.  They shouldn't be predictable, but they should be realistic.  To set goals that you are never reaching is very discouraging.
With some practice, discipline, and simple tools in place – you will become increasingly proficient at forecasting your business's total sales.
Next week, your direct costs and gross margin…